GURU Technology
Guru Dynamic Fit Unit™
The GURU Dynamic Fit Unit™ (DFU™) is the world's most advanced fit bike - providing an infinite range of motion and real-time adjustment to create the perfect ride for you.
The DFU™ is 100% computer-controlled and delivers accurate riding position adjustments while pedaling - giving you confidence in your position and ensuring maximum riding performance.
When utilizing GURU's Virtual Ride™ module, the DFU's™ automated incline/decline movement simulates changes in terrain - giving you the ability to test your riding position while riding uphill and downhill (up to15% gradient!)
Guru Fit System™ Software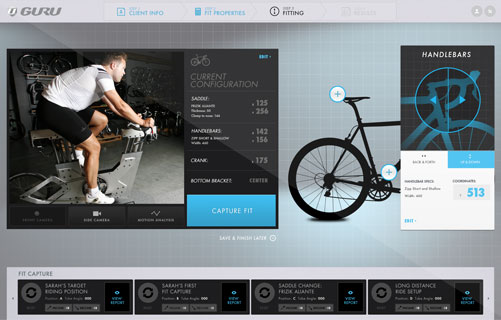 GURU's revolutionary software powers the GURU Fit System™ - providing you with an interactive, personalized fit experience to create the perfect riding position.
GURU's software captures individual riding positions during your fit session, allowing you to easily compare and contrast different positions to determine which is best for you.
GURU's Virtual Warehouse™ replaces a conventional test ride by allowing you to select individual models to ride on the GURU Fit System™ - featuring thousands of bikes across all categories (road, cyclocross, mountain, tri, recreation) from major manufacturers.
Every GURU fit session includes a comprehensive, personalized fit report that outlines your exact riding position coordinates - making it easy to replicate your riding position on a new bike or an existing bike.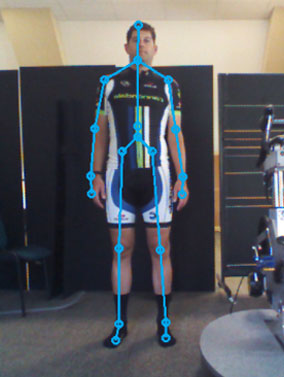 GURU RIDER SCAN™ Technology
GURU's revolutionary Rider Scan™ technology is powered by our innovative 3D camera system - delivering precise anatomic analysis to create the perfect fit experience.
Your primary Rider Scan™ captures all essential contact points to drive your GURU fit - including height, inseam, shoulder width, arm length and more. This innovative process eliminates the need for manual measurements - ensuring superior data accuracy.
GURU's 3D camera system identifies all major contact points during your fit session without the use of adhesive tracking dots or bulky equipment - allowing you to ride in superior comfort. In addition, our camera system features real-time body angle tracking - delivering instant anatomic analysis of your riding position